The Forgotten Fortress is comprised by the ruins of an ancient fortress used long ago to train Hunters, located between large cliffs adorned with waterfalls.
Layout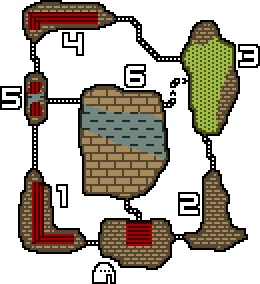 Base Camp: The entryway of the fortress, the bed and item boxes are placed on the side of the staircase, there's two corridors leading to Areas 1 and 2, and the staircase leads to Area 6.
Area 1: An L shaped corridor with a view to the open cliffs.
Area 2: A long and heavily worn corridor, strong monster movements here may cause chunks of the ceiling to fall and change the layout.
Area 3: An open courtyard, grass has begun to overgrow and there is a massive view of the waterfalls.
Area 4: A long corridor that is surprisingly in good shape.
Area 5: A small corridor with water running through.
Area 6: A large open area with a water stream, the waterfalls can be seen from here, there is a ceiling which is broken by certain monsters, giving this area an open view of the sky and the waterfalls.
Monsters
To be revealed.
Notes
Inspired by Heroes of the Waterfalls' Kingdom song by Rhapsody of Fire.
Ad blocker interference detected!
Wikia is a free-to-use site that makes money from advertising. We have a modified experience for viewers using ad blockers

Wikia is not accessible if you've made further modifications. Remove the custom ad blocker rule(s) and the page will load as expected.